San Juan

Mooney Broadcasting WUNO
After leaving Ecuador with less than $2000 due to the policies of the Military Junta government, I landed in Miami. Within a week, I had accepted the General Manager's position at Mooney Broadcasting Corporation's WUNO in San Juan, Puerto Rico. The main impediment to my being offered the position of VP and General Manager was that I would be the youngest person on the staff.
A Mooney Stock certificate
(for a Wall Street-shaking five shares) is shown above.
WUNO was purchased by Mooney Broadcasting Corporation of Knoxville, TN when its efforts to acquire WPDQ in Jacksonville were delayed due to an FCC investigation of the seller.
With cash in hand, MBC found that well rated WUNO in San Juan was on the market. When the purchase was negotiated, WUNO was rated third in San Juan, and profitable.
Those were the years when a transfer application could take the better part of a year. This deal was approved in 10 months, during which time the station had lost most of its staff, 90% of its audience, and the lease on its building. It was rated last in San Juan. Billing was $29,000 a month, and costs were over %50,000.
A new image on air, along with a new logo were among the first tasks in restoring this once-successful radio station. WUNO had brought Top 40 Radio to Puerto Rico in the mid-60's, but had fallen to less than a 3 share... when #1 WKAQ had nearly a 30.
In October, I made significant changes in the programming, including the hiring of a TV dance show host, the legendary and charismatic Alfred D. Herger, as PD. Billings reached a level of $60,000 by December, only two months later. The following year, the station attained a ratings performance sufficient to tie WKAQ, which for over 40 years had been alone in first place. Cash flow for 1971 was in excess of $250,000.

The Mooney Broadcasting Corp. 1970 Annual report pictured above (click for readable PDF) featured the changes at WUNO and the perspectives for improved performance. Left to right are Alfred D. Herger, PD, David Gleason, GM and Manuel Rivera Morales (Q.E.P.D.), Sales Manager.
WUNO had been losing more than it billed in late 1970; within 3 months it was profitable and on its way to ratings success. This is a 1971 Clapp & Mayne ratings summary. WUNO went from last to a tie with 50-year market leader WKAQ in a later study; in this one WUNO had a 19.1 to WKAQ's 22.4. The feat of tying invincible WKAQ was a powerful game changer in the market, and psychologically produced more revenue than it warranted as the hold that wkaq had heald on the market was broken.
Mooney Broadcasting 1969 Annual Report
WUNO page. Click for PDF view.
Mooney Broadcasting 197 Annual Report
WUNO page. Click for PDF view.
Mooney Broadcasting 1971 Annual Report
WUNO page. Click for PDF view.
San Juan Puerto Rico - WUNO
WUNO is a 24-hour station with 5000 watts at 1320 serving nearly 1,000,000 persons in greater San Juan.

Under the capable leadership of manager David Gleason and program director Alfred Herger WUNO achieved it's rightful] position atop survey reports - Numero UNO. "Radio Uno - Numero UNO más horas durante el día en programación musical."

Within the space of one year, Manager Gleason and commercial manager Manuel Rivera Morales turned a revenue loser into one of MBC's most profitable operations. WIJNO's 1970 loss became a profit in 1971. The turn-around exceeded $200,000. January, 1972 sales exceed those of 1971 by 75%.

Radio UNO is very conscious of the role it can play for the welfare and betterment of the Puerto Rico community. The staff has been complimented en the general knowledge programs which have been presented. These are informative capsules which cover such topics as Puerto Rico History, reasons for various Puerto Rico holiday celebrations, origination of traditions, origin of customs, origination of unusual words in the Spanish language and colloquialisms. Simple interpretation of the meanings of the constitution have been favored by UNO listeners.
Listener opinions instigated by UNO have resulted in numerous improvements for San Juan citizens UNO was instrumental in getting hot water installed in island medical facilities. A park was provided with nighttime illumination for young people to enjoy sport and recreational facilities as a result of UNO's efforts. UNO's efforts have also resulted in numerous street and sanitation improvements.
UNO's Alfred Herger was honored by the Record World as Latin American deejay of the year. He was also selected as Master of Ceremonies for the world renowned Latin American Song Festival held in Buenos Aires, Argentina.
WUNO is moving into its new building. This modern new structure, with the latest up-to-date technical equipment, and modern furnishings is a facility of which we can be proud. These improved working conditions for our employees should reflect an even greater sales and profit increase in 1972.
The capable 'want-to-win" staff which David Gleason selected is justifiably proud of its accomplishments and they are aiming to become the overall radio leader in the Mooney Broadcasting organization. 'Hasta cuando el sol se pone radio UNO brilla." [Even when the sun goes down Radio UNO shines.)
Standard Rate & Data's "Spot Radio" carried this WUNO ad touting its resurgence and new #1 status in this market of 1.2 million. At WUNO I began my campaign to have San Juan ranked in SRDS as a US market. I reached that goal in 1976 with San Juan being ranked 29 among US radio markets.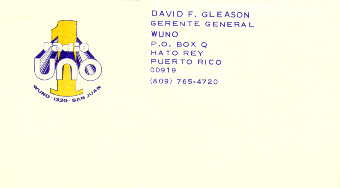 My card...
In 1972, when Mooney bought an AM & FM combo in Birmingham, Alabama, from Taft, I moved to that market to launch one of America's first independent FM Top 40 stations and an Adult Contemporary AM.