Colegio Americano...


Quito's finest bilingual school since 1940.
The American School opened its doors to 162 students on October 14, 1940. The process of founding the school was initiated the year before by Galo Plaza Laso, President of Ecuador and later President of the OAS, in conjunction with Mr. Boaz Long, the U.S. representative to Ecuador.
They were joined by a group of founding Ecuadorian families and the families of the U.S. diplomatic mission and multinational companies. The founders of the school were concerned with the fact that their children had only two options for education: Roman Catholic schools or the German school.
These families were interested in establishing a school based on U.S. schools in which race and religion were not impediments for learning.
Additionally, among the liberal families at that time, there existed a strong desire to establish democratic roots in a country that had lived under dictatorships and military governments from the time of its independence.
This vision has been maintained over the years and the current students of the school are still members of the leading families of Ecuador.
The school has been vital in establishing and maintaining democracy in Ecuador and has among its graduates leading political leaders, who have contributed to the country's stability.
The school has graduated a former president of Ecuador (Galo Plaza, center, above), a former mayor of Quito, government ministers, ambassadors, and CEOs of multinational companies, among other dignitaries.
A cooperative of parents was formed at the school's initiation and was replaced by the Foundation in 1988. SACS (Southern Association of Colleges and Schools) accredited the school in 1948 and experimental status was obtained from the Ministry of Education in 1948, 1985 and finally in 1994.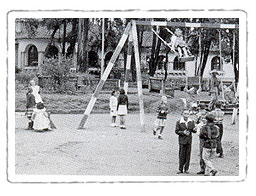 From wikipedia: The Fundación Colegio Americano de Quito or Colegio Americano de Quito (American School of Quito) is a college preparatory school in Quito, Ecuador. It was founded by the former president of Ecuador and the president of the Organization of American States (OAS) Galo Plaza Lasso in 1940.
The American School of Quito opened its doors on October 14, 1940 to 162 students. The first directors were Robert E. and Mrs. Hazel J. Tucker, who had just arrived from the United States. The founders of the school lived in a time characterized by the fascist movements in Europe, represented in Ecuador and other South American nations by the German and Italian schools operating there. The two founders wanted to counter this. They had a vision of educating the youth of Ecuador in democratic values knowing these students would become the future leaders.